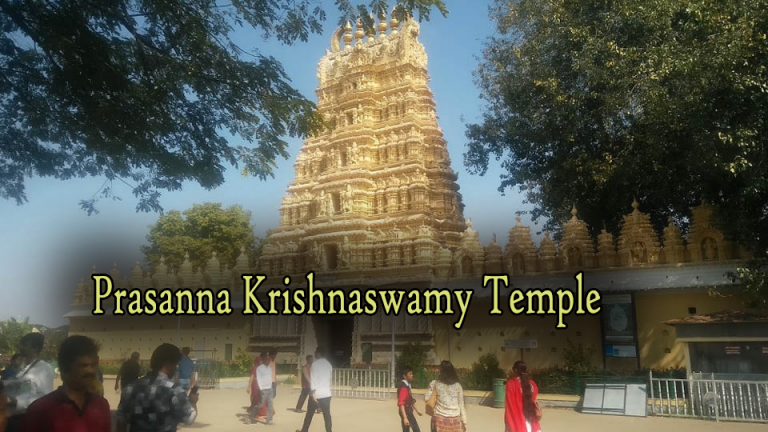 Prasanna Krishnaswamy Temple is an ancient temple built by the Maharaja of Mysore, Krishnaraja Wodeyar III, within the Palace complex.  The Wodeyar dynasty of Mysore is believed to be descendents of Yadu Vansha. Hence the temple was dedicated to Lord Krishna in order to honour the founder of the Yadu Vansha, Lord Krishna.
Distance (From Mysore Junction): 
3 Kms
Visited From: 
Mysore Palace
Trip Duration (Including Travel): 
15 Mins or Less
Place Location: 
Inside Mysore Palace Grounds
Transportation Options: 
Walk/Trek
Travel Tips: 
The Prasanna Krishnaswamy Temple is part of Mysore Palace and can be visited together.

At a distance of 3 Kms from Mysore Railway Station & 2 Kms from KSRTC Bus Station, the Prasanna Krishnaswamy Temple dedicated to Lord Krishna is located inside the Mysore Palace towards the eastern end of main palace building. Built by Krishnaraja Wodeyar III in 1829, the statue of the temple is made of chlorite schist. The idol of Krishna is in the crawling pose with butterball in the hand.
There are around 40 bronze images of gods, goddesses, saints and sages in the temple. The figures of Krishnaraja Wodeyar along with his wives are still worshiped in the temple. Another shrine is dedicated to Sage Atri who was the priest of the Maharaja. There is another shrine with idols of Ramanujacharya, Paravasudeva, Ananthasayana and Rajamannar.
This temple is also known for the murals on the walls of the mandapa. The murals depict stories from Bhagavata. The murals of this temple are excellent examples of 19th century Mysore Art.
Grand celebrations are held during Krishna Janamashtami festival for 8 days. Cow procession is a major attraction during the festivities.