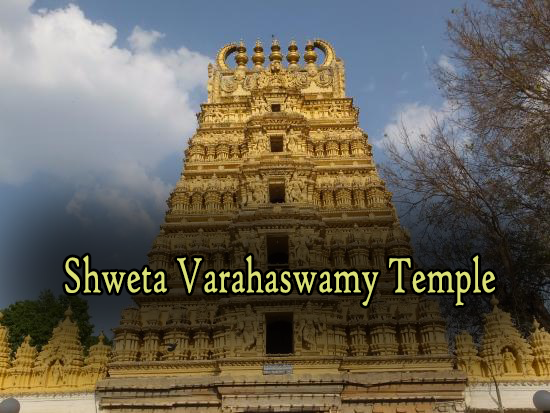 Sri Shweta Varahaswamy Temple is a famous ancient temple of Mysore. Known also as Varahaswamy Temple, Sri Shweta Varahaswamy Temple is a popular tourist and pilgrimage destination.
Located at the southern entrance of Mysore Fort, Sri Shweta Varahaswamy Temple exhibits Hoysala style of temple architecture. The stone image of Shweta Varahaswamy was at first consecrated at a temple at Srirangapatna by Chikka Devaraja Wodeyar (1672-1704).
Distance (From Mysore Junction): 
3 Kms
Visited From: 
Mysore Palace
Trip Duration (Including Travel): 
15 Mins or Less
Place Location: 
Inside Mysore Palace Grounds
Transportation Options: 
Walk/Trek
Travel Tips: 
The Shweta Varahaswamy Temple is part of Mysore Palace and can be visited together.

At a distance of 3 Kms from Mysore Railway Station & 2 Kms from KSRTC Bus Station, The Shweta Varahaswamy Temple dedicated to Lord Varaha (an incarnation of Lord Vishnu) is situated inside the Mysore Palace grounds. Built in Hoysala style, it is one of the ancient temples of the city. The Temple is an architectural beauty with intricate carvings on its doorway, towers and pillars.
The Mysore King Chikka Deva Raja Wodeyar (1672-1704 A.D.) procured the stone image of Shweta Varahaswamy from Srimushnam in Tamil Nadu and installed the idol in the original temple in Srirangapatna. However, the temple was demolished and the idol was shifted and set up in this temple in 1809. The current temple was built by Dewan of Mysore Purnaiah using materials of a Hoysala building in Shimoga district.
Surrounded by high scaling walls also nicely carved with wonderful murals, the southern wall depicts Rama Pattabhisheka with magnificent mural.