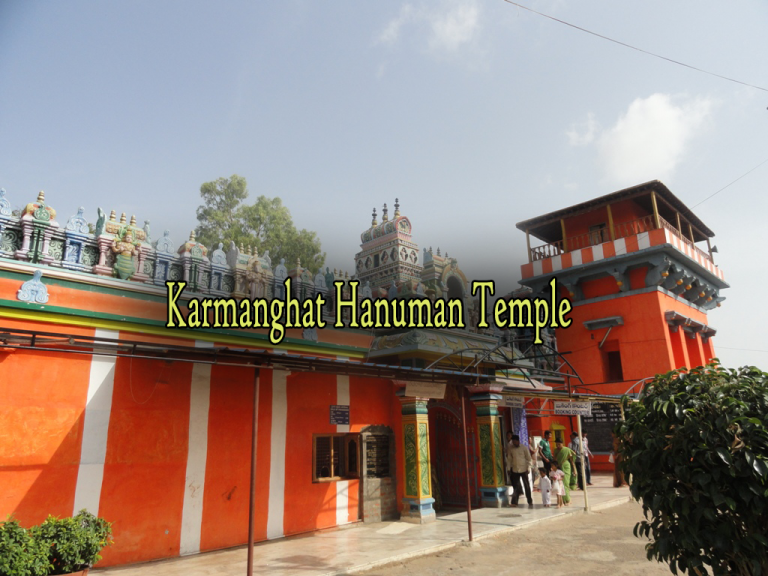 The Karmanghat Hanuman Temple is one of the oldest and popular Hindu temples in Hyderabad, in the state of Telangana, India. The presiding deity of the temple is Lord Hanuman and the temple complex also houses other deities viz. Lord Rama, Lord Shiva, Goddess Saraswathi, Goddess Durga, Goddess Santoshimata, Lord Venugopala Swamy, and Lord Jagannath. The temple is located at Karmanghat, near Santoshnagar and closer to the Nagarjuna Sagar Ring Road.
Distance:
– 16 Kms from Secunderabad Railway Station (60-70 min drive)
– 9 Kms from MGBS Bus Stop, Hyderabad ( 30-40 min drive)
Festivals Celebrated At Karmanghat:
Many Hindu festivals like Hanuman Jayanti, Sri Rama Navami, Ugadi/Yugadi, Krishna Janmashtami and Maha Sivarathri are celebrated with great splendor in Karmanghat.
Karmanghat Temple Timings:
Karmanghat Hanuman temple is open for the devotees in the following timings-
| Week | Morning | Evening |
| --- | --- | --- |
| Mon, Wed, Thu, Fri | 6:00 AM to 12:00 PM | 4:00 PM to 8:00 PM |
| Tue and Sat | 5:30 AM to 1:00 PM | 4:00 PM to 9:00 PM |
Note: Temple timings may change in the future. The above table is given as a reference purpose only.
Karmanghat Hanuman Devastanam Temple Location:
Karmanghat Hanuman Temple is located at Karmanghat village closer to Sagar Ring Road towards Chandrayanagutta. The Hanuman temple comes under Saroornagar Mandal, Ranga Reddy District.
Address:Inner Ring Road,
Padma Nagar Colony,
Karmanghat,
Champapet, Hyderabad,
Telangana
Pin: 500079
If we look back into the history of the Karmanghat Hanuman temple, it is believed to date back to the twelfth century. He was very tired and found a lush green tree suitable for rest. As he sat under the tree, he heard continuous chanting of Lord Rama's name. He was very surprised about it. While searching the source of chanting, he found a beautiful idol made from stone. It was a Hanumana idol in the sitting posture. The chanting was coming from it. He was quite amazed with the scene and paid his respect towards the idol. He saw a dream in the night in which Lord Hanumana ordered him to construct a temple.
Festivals like Ugadi, Shri Ramanavami, Valmiki Jayanthi, Krishnashtami, Hanuman Jayanthi, Dasara, Nagapanchami, Karthika Pournami, Shivarathri are celebrated with a lot of pomp and splendor in the temple.  People have a lot of belief in the god here. It is said that if ladies worship Dhyana Anjaneya for 40 days regularly, they will be blessed with hale and healthy children.  Similarly, people with diseases will also get cured if they worship the Lord for 40 days