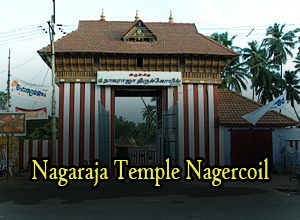 Nagaraja Temple is a Hindu temple worshipping Nagaraja (King of Serpents- Vasuki) situated at the heart of Nagercoil town. At a distance of 20 kms from Kannyakumari (situated in Nagarcoil town, on Trivandrum – Kanyakumari road), The Nagaraja Temple is a simple thatched shed, with mud walls.
Distance (From Kanyakumari): 

20 Kms
Visited From: 

Kanyakumari
Trip Duration (Including Travel): 

2 Hours
Place Location: 

In Nagarcoil Town
Transportation Options: 

Cab / Bus
History:
A woman was cutting the paddy crops in the field. Blood oozed out from one
bunch. Scared woman informed her experience to the people of the place. They
came to the place and found a Nagaraja idol. They immediately built a hut around
the Nagaraja. The king of Kerala, Marthanda Varma, suffering from skin problemscame and worshipped here. His disease was cured. He built a big temple here then. This is the only big temple built exclusively for Nagaraja worship in Tamilnadu. The place also came to be known as Nagercoil.
Nagaraja Temple of Nagercoil is one among the prime attractions situated nearby Kanyakumari. Nagercoil, the headquarters of Kanyakumari District, is situated 22 km from Kanyakumari town and 7 km from Suchindram.
Nagarcoil Nagaraja Temple is an important tourist destination in Tamil Nadu. Nagarcoil was initially called by the name Kottar. It is from the Nagaraja temple that the place got the name Nagarcoil.
Nagaraja Temple, as the name signifies, is dedicated to the Serpent God. The serpent deity worshipped here is a five-headed Naga, which is installed on the ground. The temple complex also consists of shrines dedicated to Lord Shiva and Lord Anantasayana.
It is believed that Nagaraja Temple was earlier a Jain temple which is evident from the images of Jain Tirthankaras, Mahavira and Parswanatha found on the pillars of the temple. The entrance to the Nagaraja Temple is constructed on the model of Budha Vihara.
Nagaraja Temple of Nagercoil is visited by pilgrims mostly in the month of Avani (August – September). On every Sunday in Avani, huge hordes of pilgrims visit Nagaraja Temple and offer special prayers to the serpent deity. It is the wet sand scooped out from the enshrined ground of Nagaraja idol, which is distributed as prasadam.
It enshrines the King of Serpents. Tradition states that a King of Kalakkad was cured of leprosy when he performed penance in the temple. He then rebuilt it in the Kerala style. He might have been Bhuthalavira Sri Vira Udaya Marthandavarma, who ruled Venad, with Kalakkad as the capital. It is believed that snakebite is not fatal within a kilometer of the temple.
Temple timings: 5.30 AM – 10 AM & 5 PM – 7 PM