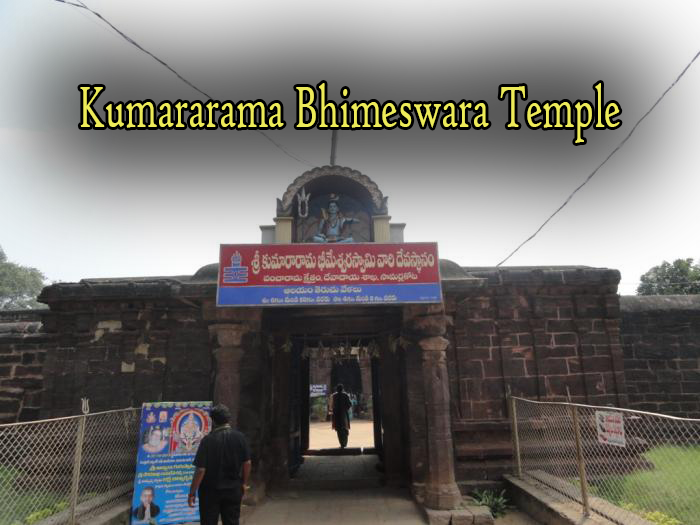 Samalkot is located at a distance of 12 km from Kakinada, 52 Km from Rajahmundry. Bhimavaram (Lat. 17o 02'N, Long. 82o 12'E), which now forms part of Samalkot town, is known as Bhimavara Kshetram with its famous temple of Kumararama Bhimesvara. The village was known in the past as Chalukya Bhimavaram according to the inscriptions found in the temple. It is situated at a distance of about 11 kilometers to the North of Kakinada in East Godavari District of Andhra Pradesh and is on the Chennai Howrah broad gauge railway line of South Central Railway.
Distance (From Kakinada): 

12 Kms
Trip Duration (Including Travel): 

2 Hours
Transportation Options: 

Bus / Cab
Kumararama Bhimeswara Temple Samarlakota History:
Demon Tarakasura theft Amrutha Atma Linga which emerged out during Ksheerasagar Mathanam (drillingOcean of Milk). Tarakasura wearing this Linga around his neck, with its supernatural powers, he was unbeatable. Kumara Swamy son of Siva and Parvathi, who was the commander-in-chief for deities came face to face with Tarakasura in the war. Kumara Swamy used his Sakthi weapon to kill Tarakasura.Kumaraswamy repeatedly broke Tarakasura body into pieces and it was reunified again. Kumaraswamy was confused and sought advice from Vishnu.Lord Maha Vishnu advised Kumara Swamy to break shiva linga into pieces, only then the demon can be killed. Maha Vishnu also said that even after breaking the shiva linga, the pieces will try to reunite again.To prevent this reunion, all these broken pieces should be fixed in those places where they fall, by worshiping and building temples on top it.As advised by Maha Vishnu, Kumara Swamy used his Agni weapon to break the Siva Linga worn by the demon. The Atma Linga broken into five pieces, the broken pieces tried to reunite by making the chant 'om'. To prevent this Indra, Surya (Sun), Chandra (Moon), Vishnu and Kumara Swamy worshipped the Linga's at the respective places. Kumara Swamy had installed the Siva Linga here.From inscriptions, it is known that this temple was built by Eastern Chalukyan king Bhima during 9th and 10th centuries.
This place was known as Purva Chalukya Bhimavaram as the Eastern Chalukyans ruled this place. The temple was built by Chalukya Kumara Rama during the end of 9th century as a celebration of his victories in more than 300 wars. A mantapam supported with one hundred pillars is built here along with Eka Shila Nandi (Single Stone Bull) at the temple entrance opposite to Shiva Lingam. Goddess Shri Bala Thripura Sundari is also worshipped in this temple. Pushkarni Lake is situated to the east of temple. The main entrance to the temple is called Surya Dwaram.
Festivals:
Kalyana Mahotsam & Mahashivratri are most celebrated festivals here.
Maha Shiva Ratri(February/March)
Saran Nava Rathrulu(Dessara 10 days)
Karthika Masam(October/Novermber)
There are quite a good number of devotees visiting this temple. The total maintenance activities are taken care by the Government of Andhra Pradesh. Several parts of the temple are in a very bad shape and renovation activities are going on. Along with this activity, a garden is also being made for visitors to make this place a picnic spot. During November-December (Karthika and Margashira masam) months daily Abhisheka is carried out. There will be Utsavam (Kalyana Mahotsam) during February-March (Magha Bahula Ekadashi day) time. Till Maha Shivarathri grand celebrations in the temple can be seen. There will be a car festival during Sivarathri. Lord Bhimeswara Swamy is installed (Prathishthapana) by Kumara Swamy (son of Lord Shiva and Goddess Parvati) and hence the temple is called KumaraRama. Temple timings are from morning 6.00am to 12.00 noon and after noon 4.00pm to 8.00pm.
Additional places of interest around Samalkot include Draksharama, Annavaram, Thalupulamma Thalli and Rajahmundry. Budget hotels are available in Samalkot to stay. Travellers can also make Rajahmundry as the center place for their trip.
Accommodation:
Guest Houses available are:
1.R & B Guest House is available at Peddapuram which is at a distance of 5 Kms.
Timings: 6 AM to 12 PM & 4 PM to 8 PM
Address:
Sri Chalukya Kumararama Sri Bhimeswaraswamy vari Temple
Ryali,
East Godavari District
pin- 533 236.