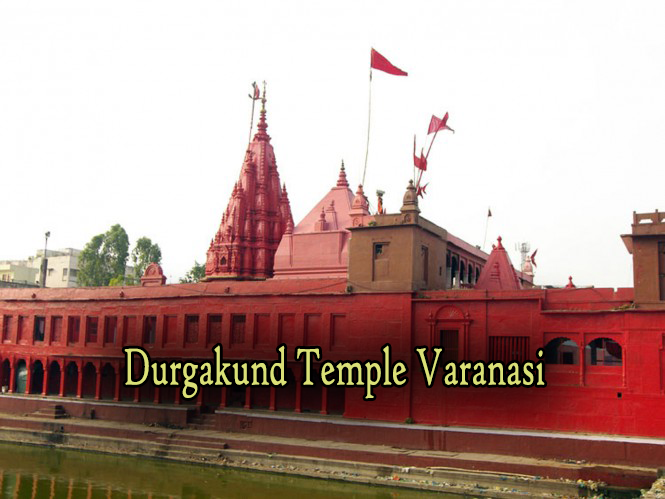 Durga temple is also known as the Monkey temple (because of the presence of huge number of monkeys), situated in the Durga Kund, Varanasi. The temple is dedicated to the Goddess Durga. It was built in the 18th century.
Distance (From Varanasi Junction): 

7 Kms

Commonly Visited From: 

Tulsi Manas Mandir (200 m)

Trip Duration (From Tulsi Manas Mandir , Including Travel): 

30 Mins

Transportation Options: 

Walk/Trek

Travel Tips: 

Though the temple is open to all, but only Hindus are allowed to enter the main sanctum sanctorum.

Timings: 4 AM – 1 PM & 3 PM – 8 PM

Perfect time to visit the temple: Anytime in the year from 7:00 am to 8:00 pm.

Best Time to Visit Durga Temple ?

The temple is at prime beauty throughout the year. During Dusherra celebration that takes place in October, the temple will be colorful. You can find many rituals during this celebration. Many fairs and shops will be erected outside the temple. The temple is open from 7 in the morning until 8 in the evening.

Tourists usually prefer to visit this temple during winter season due to the pleasing climate. During auspicious days and festivals, the temple will be filled with devotees.

Special events and celebrations: Navratris, Nag Panchami

Nearby Temples:

Sankat Mochan Temple,

Tulsi Manas Temple,

Tridev Mandir

Durga Puja 2018 – This year, the festival will be celebrated from 10th October to 19th October .

Mahalaya 2018 – It will be celebrated on 19th of October in 2018. This is also one of an important dates of Durga Puja when people invite Goddess Durga on the Earth and on her idol, eye are drawn.

Durga Pujas:

The celebration of the Durga Puja festival occurs during five consecutive days that includes "Saptami", "Shasthi", "Ashtami", "Navami" and "Dashami".

The queen of Bengal built the temple in 18th century. The temple has a pond (kund) which is connected to the holy River Ganges. It is said that the deity inside the temple was not made by man but appeared itself.

The king of Varanasi invited the princes from surrounding cities for his daughter to choose her groom. Later, he learnt that his daughter was in love with the prince of Varanasi and got them married. The princes who came for the event felt insulted and waged war against the king of Varanasi.

The prince of Varanasi prayed to Durga to help the king of Varanasi in the war. It is said that the Goddess fought the war for the king and the temple was built to please Durga and to plead her to protect the land.
The exact time of construction of the temple is not known. It was built in 18th century in Nagara style. The temple is painted in dark red color to represent the power of the Goddess.