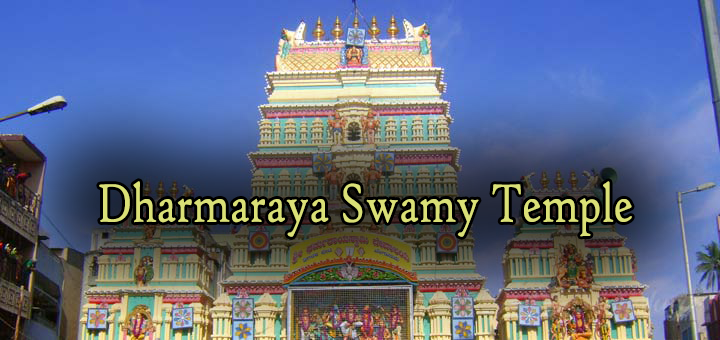 Shri Dharmaraya Swamy Temple is one of the oldest and famous temple situated in Bangalore city. It is unique as it is dedicated to the Pandavas and not found anywhere else in India.
Distance (From Bangalore City Railway Station): 
3 Kms
Visited From: 
Bangalore City Railway Station
Trip Duration (Including Travel): 
1 Hour
Place Location: 
Nagarathpet
Transportation Options: 
Cab / Auto / Bus
Timings: 5:30 to 10:30 AM & 5:30 to 9 PM
At a distance of 3 Kms from Bangalore City Railway Station, Sri Dharmaraya Temple is located at Nagarathpet in the suburbs of Bangalore. This temple is dedicated to Sri Dharmaraja Swamy, the hero of the Mahabharata along with other Pandavas and Lord Krishna. It is believed that the temple was built in 16th century.
The temple is known for its colorful sculptures that adorn the walls and roofs of this huge structure on the outside. Inside the temple premise also one can find a large number of stone sculptures and carvings. Karaga Festival celebrated in the March / April is the most famous festival of this temple. Karaga is the symbol of Draupadi, wife of Pandavas. Huge processions are held that start from the temple grounds and returns over here. It starts at 2 and ends at 6 in the morning. People of all religions participate in the procession. The idols of the deities are taken out in the procession.