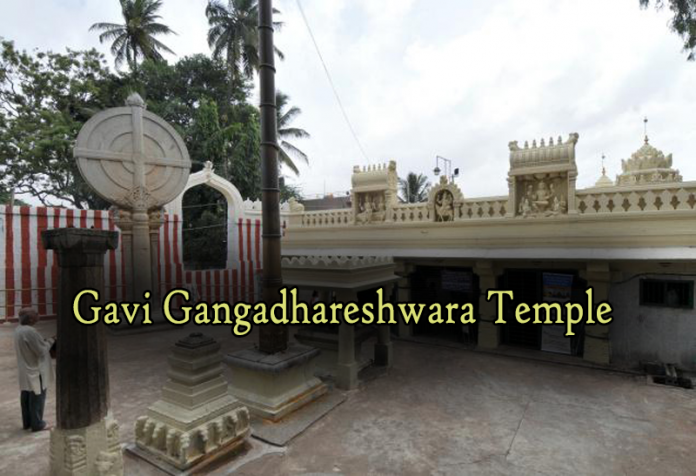 Gavi Gangadhareshwara Temple also Gavipuram Cave Temple, an example of Indian rock-cut architecture, is located in Bangalore in the state of Karnataka in India.
Distance (From Bangalore City Railway Station): 
5 Kms
Visited From: 
Bull Temple
Trip Duration (Including Travel): 
30 Mins – 1 Hr
Place Location: 
Basavagundi
Transportation Options: 
Cab / Auto / Bus
Timings: 7 AM to 12.30 PM & 5 to 8.30 PM
Travel Tips:
1. Bull Temple is about 1 Km from here and can be visited together
2. Dodda Ganapathi Temple is about 1 Km from here and can be visited together
At a distance of 5 Kms from Bangalore City Railway Station, Sri Gavi Gangadhareswara Temple is a rock-cut cave temple located near Basavagundi. Dedicated to Lord Shiva, it is one of the oldest temples in Bangalore.
The temple is believed to have been constructed in 9th century. According to temple legend, this cave temple dates back to the Tretha Yuga. Sage Gautama had worshipped Lord Shiva in this cave temple. The central sanctum is facing south, which is a rare feature. The temple compound has shrines of Devi Parvati and Durga. The images of Shanmukha and Ayyappa and those of Chandra, Surya and Bhairava are exquisitely carved. In the front yard, there are stone monoliths of sun and moon discs. A unique phenomena is witnessed here on January 13th / 14th (Makara Sankranti day) every year when the rays of the setting sun enter through the window, pass between the horns of the Nandi and shine on the Shiva lingam.