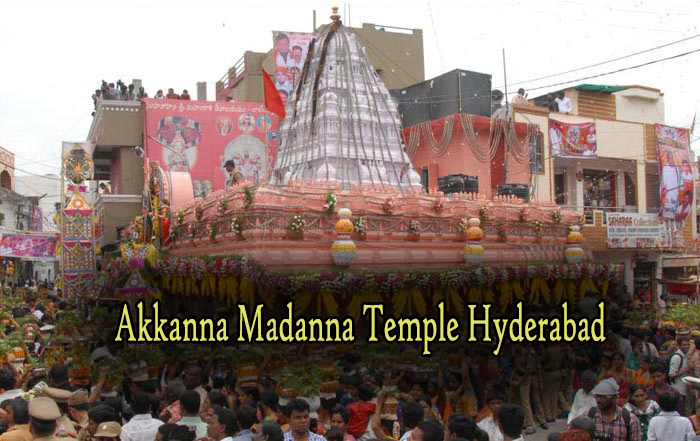 Akkanna Madanna Temple is a traditional Hindu temple of Goddess 'Mahankali' located in Shalibanda, Old City, Hyderabad. This temple is known for the celebrations of Bonalu festival in Hyderabad. This temple was constructed by two Bharmin brothers 'Akkanna' and 'Madanna' during the time of Sultanate of Golkonda. (1674 to 1685).
Distance to Akkanna Madanna Temple:
-20 Kms from Secunderabad Railway Station
-139 Kms from Warangal
-170 Kms from Karimnagar
Location: Shalibanda, Old City, Hyderabad (1km from Charminar)
Address:Shri Akkanna Madanna Mahankali Mandiram
Hari Bowli, Shalibanda, Hyderabad -500065
Timings: 5am-8pm
Interesting Facts of Akkanna Madanna Temple: An historic Hindu Temple of Godness 'Mahankali' built 330 years ago. Approximately 1 Lakh (100,000) devotees visit this temple during the Procession of 'Ghatam'.
Festivals: During Bonalu Festival, especially during the procession of Ghatam.The Temple is open on all days of the year.
The two brothers were killed during the war with Mughal Army. Akkanna Madanna are still remembered in Telangana Region as great martyrs and administrators. Akkanna, Madanna are the uncles of Bhaktha Ramadasu, who constructed Lord Sri Rama in Bhadrachalam.
Procession of 'Ghatam' at this temple is very important event which happens during Bonalu festival.
Bonalu festival celebrations at Akkanna Madanna Temple will not until the repairs and whitewash of the Dargah (white is opposite to the temple) is completed.