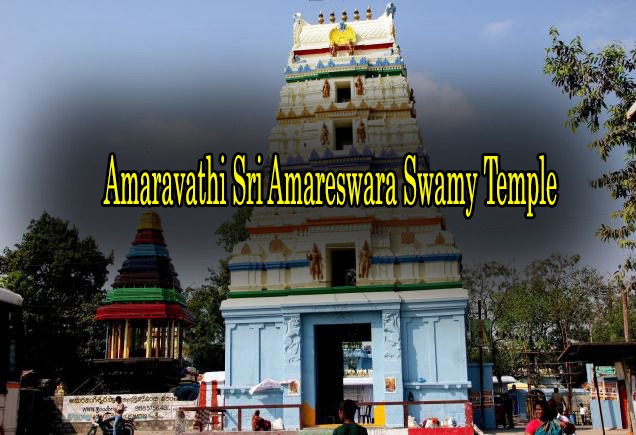 History Of Amaravathi Sri Amareswara Swamy Temple:
Amararama Temple (or) Amareswara Swamy Temple is dedicated to Lord Shiva,and also situated in the town of Amaravati, Guntur, state of Andhra Pradesh. Amareswara Swamy Temple is considered to be an important and very sacred as it is located on the southern bank of holy Krishna River. This Temple is one of the Pancharama Kshetras (five temples), dedicated to Lord Shiva in Andhra Pradesh. The Pancharama Kshetras are:
Amareswara Swamy Temple, Amararama
Bhimeswara Temple, Draksharamam
Someswara Temple, Somarama
Ksheera Ramalingeswara Swamy Temple, Ksheerarama
Sri Kumararama Bhimeswara Swamy Temple, Kumararama
In the ancient period, Amaravathi was one of the four major learning centers in India attracting many students from all corners of the globe.In modern times, the temple was greatly renovated and expanded by Sri Raja Vasireddy Venkatadri Naidu.The famous Amareswara Swamy Temple is dedicated to Lord Shiva and houses a Shiva Lingam of fifteen feet high.
The Sivalingam here is very tall and archakas mount a pedestal platform to perform the daily rituals and Abhishekam. The top of the Linga has a red stain on it and can still be seen today.There is an interesting story behind it. When Shiva Lingam grew in size, a nail was dug on top of the Lingam to stop its growth and immediately blood started oozing out from the Shiva Lingam.Major festivals that are celebrated in the Amaravathi temple are Maha Shivaratri and Kartika Purnima.
The sacred Shivalingam at this Amareswara Swamy Temple is believed to be installed by Lord Indra, the leader of all the deities. The mythology of the temple was that during Tarakasura vadha, it is said that the Shivalingam which was present on the throat of Tarakasura, a powerful asura, was divided into five pieces. And the place where the five pieces fell where the Pancharama Kshetras are built. Amareswara Swamy Temple was renovated and expanded further by Vasireddy Venkatadri Naidu, the King of Chintapalli and later Dharanikota, who was a great devotee of Lord Shiva.
The other mythology was that when Vasireddy Venkatadri Naidu was in the course of putting down a revolt in his own land, he got into a situation that he need to have a recourse to a massacre of the Chenchus. And due to that, he lost his mental peace, which could recovered only when he visit Amaravati. Vasireddy Venkatadri Naidu moved to Amaravati in the year 1796, and dedicated his entire life in Amaravati. He spent his revenues to construct temples for Lord Shiva and he appointed nine archakas (priests) to perform rituals to Shivalingam at Amararama temple with providing them sustenance.
Temple Timings:
Morning: 6 AM to 1 PM
Evening: 4 PM to 8 PM
Note: the temple is closed from 1PM to 4 PM.
Festivals:
Mahasivaratri – February/March
Navaratri – September/October
Address:
Amaravati Mandal And Town, Guntur District, Amaravathi, Andhra Pradesh 522020