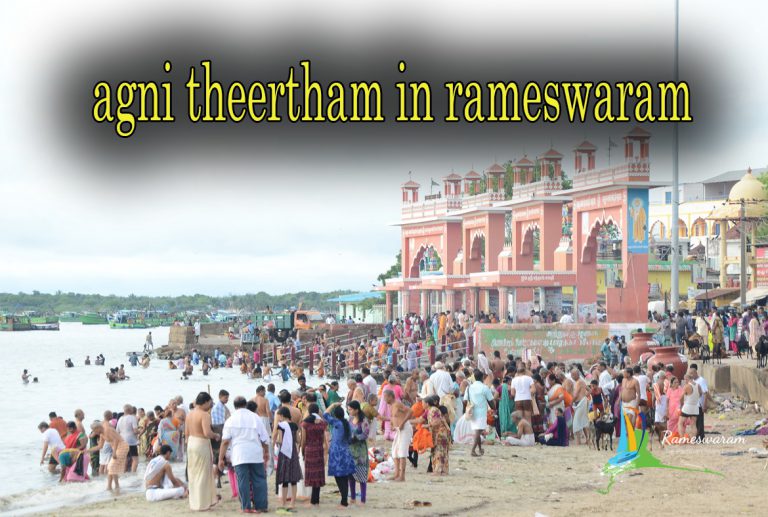 Agni Tirtham is one of the Tirthas of Rameswaram, Tamil Nadu, India. The beach east of Ramanathaswamy Temple is known by this name.One of the 64 sacred baths in Rameshwaram, the Agnitheertham is one of the most important theertham and receives a large number of tourists each day. Located on the beach side of Sri Ramanathaswamy temple, Agnitheertham is the only theertham sited outside the temple complex.
Distance (From Rameswaram Railway Station): 
2 Kms
Visited From: 
Ramanatha Swamy temple
Trip Duration (Including Travel): 
30 Mins
Place Location: 
Near RamanathaSwamy Temple
Transportation Options: 
Walk/Trek
At a distance of 2 km from Rameshwaram Railway Station (just 100 meters away from east entrance of Rameshwaram Temple), Agnitheertham is said to be the place where Rama worshipped Lord Shiva to wash off his sins of killing Ravana. It is one of the important places to visit in Rameshwaram.
It is a sacred place and piligrims believe that taking a bath in Bay of Bengal at Agniteertham will washout one's sins of life time. It is visited by the followers of Lord Shiva as well as Vishnu, whose incarnation was lord Rama.
The sea here is very calm and ideal for bathing.
In the Sanskrit language, the word agni means fire; while the word theertham means holy water. Agnitheertham has been mentioned several times in the ancient texts and mythological legends as a pilgrimage of significant importance among the Hindus. The devotees visiting the theertham offer their prayers to the deity and atone their sins by taking a dip in the holy waters.