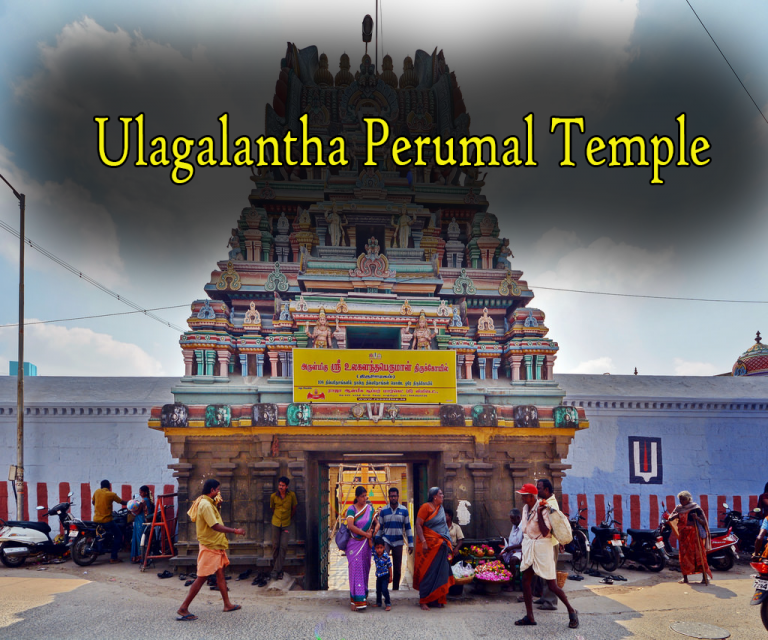 Ulagalanda Perumal temple is located in Big Kanchipuram and is situated nearby Sri Kamakshi Amman Temple. It is one of the 108 Vishnu temples known as Divya Desams, as depicted by the 12 great Tamil poets, in their work, known as Alwars. There are three Divyadesas within this temple, Tiru Neeragam, Tiru Ooragam, and Tiru Karakam. It is said that except Tiru Ooragam all the other two temples were built elsewhere but bought together later together.
Out of the 108 divyadesam, it lies in the 49th place. In this temple, Lord Vishnu appears majestically blessing the devotees with his right leg pressed on the ground with the left up.
Address of Ulagalantha Perumal temple
Sri Ulagalanda Perumal Temple,
Temple opening time
From 7.00 a.m. to 12.00 a.m. and from 4.00 p.m. to 8.00 p.m.
Road
Ulagalantha Perumal temple is less than 1 km from the Kanchipuram central bus stand and Srimatam.
The shrine has in itself three more Divyadesas Thiruneeragam, Thirukaragam and Thirukarvanam. This temple thus has 4 Divyadesas in itself. This unique reputation cannot be seen in any other place.
According to Bhagwad Purana, once an Asura king named Mahabali took over the authority of heavens by force and dispelled Indra. Mahabali was the grandson of of Hiranyakshipu, the son of Prahlada.
The residents of heaven went to Lord Vishnu to save themselves from wrath of the asura king, it is then Lord Vishnu took the Vamana avatar and descended to save the heaven. The story goes like this, Mahabali was known to be very generous king and had gain immense power through severe austerities and penance, but he was blind with power so much so that he started considering himself the ultimate king of the world which bought his downfall. To bring about his downfall, Lord Vishnu once took Vamana avatar (form of a short priest) carrying a wooden umbrella and went to Mahabali asking for three paces of land. Mahabali consented after which Lord Vishnu took gigantic form and strode form heaven to earth in one step and from earth to netherworld in the second step, no place was left to put the third step of the gigantic Lord, seeing that Mahabali offered his head to keep the third step. Lord Vishnu placed his foot and blessed Mahabali with immortality for netherworld. Vamana in gigantic form is known  as Trivikrama.