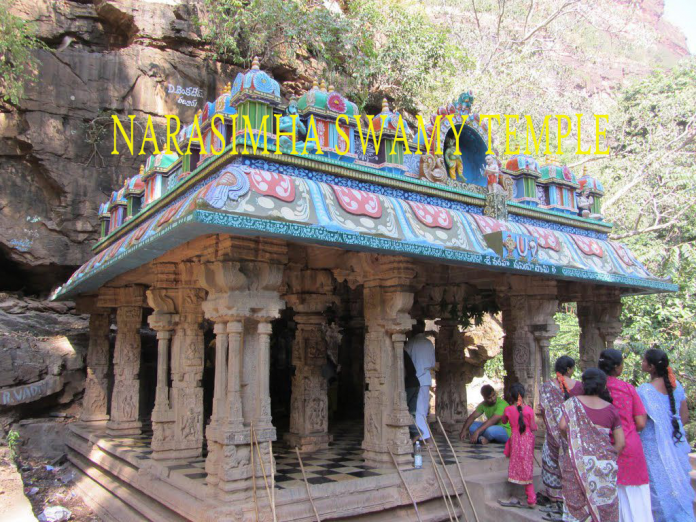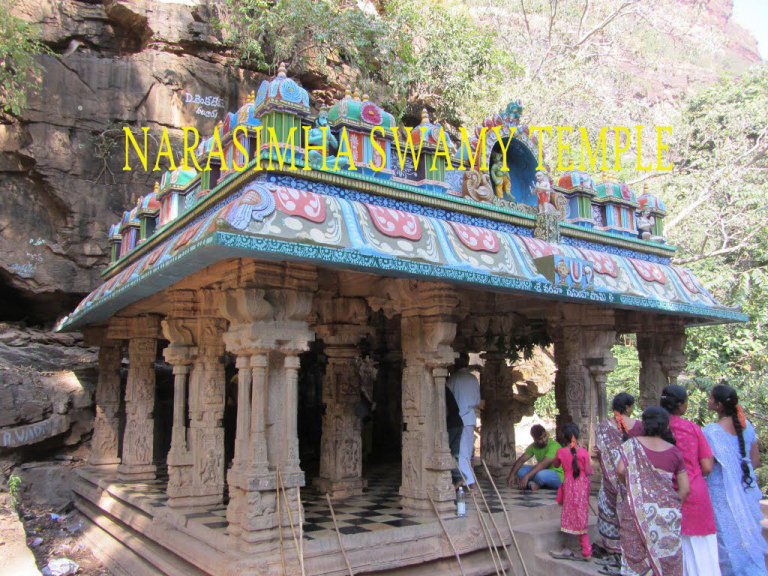 Ahobilam is the holy abode of Lord Narasimha, an incarnation of Lord Vishnu in man-lion form.At a distance of 66 km from Nandyal, 137 km from Kurnool, 114 km from Kadapa, 348 km from Vijayawada, 350 km from Hyderabad and 407 km from Bangalore, Ahobilam or Ahobalam is an important pilgrimage center located in the Kurnool district of Andhra Pradesh. Ahobilam is one of the most famous pilgrimage sites in Andhra Pradesh and also one of the best Places to visit in Andhra Pradesh.
Historical & Heritage:
Ahobilam is the holy abode of Lord Narasimha, an incarnation of Lord Vishnu in man-lion form. According to legend, this is the place where Lord Narasimha killed Hiranyakasipu and saved Prahalada. Though the initial temples were built by Chalukyas in 8th century, most of the current structures were rebuilt by Vijayanagara kings around 15th century.
Situated amidst dense Nallamala Forest, Ahobilam is one of the 108 Divya Desams. This place is also called as Nava Narasimha Kshetra since Lord Narasimha is worshipped in 9 different forms and separate temples exist for all the forms within a radius of 5 km from the main temple. Jwala Narasimha, Ahobila Narasimha, Malola Narasimha, Kroda Narasimha, Kaaranja Narasimha, Bhargava Narasimha, Yaogananda Narasimha, Chathravata Narasimha and Paavana Narasimha are the nine forms of Lord Narasimha in Ahobilam. Few of these temples have easy access, but most of them have to be reached by difficult treks through thick forest and rocky paths.
The town is divided into two parts, Lower Ahobilam and Upper Ahobilam. Of these nine shrines, Yogananda, Chathravata and Bhargava Narasimha swami shrines are situated in Lower Ahobilam and the remaining six are in upper Ahobilam. There is also another temple of Lord Narasimha Swami in the lower Ahobilam where the idol of the Lord is believed to be installed by Lord Venkateshwara of Tirupati.
Ideal Trip Duration: 

1-2 Days

Base Station: 

Ahobilam, Nandyal (66 Kms)

Nearest City to Ahobilam: 

Kurnool (137 Kms), Hyderabad (350 Kms)

Best Time to Visit Ahobilam: 

October to March

Peak Season: 

February to May

State: 

Andhra Pradesh

District: 

Kurnool

Ahobilam Weather: 

Summer: Maximum – 41°C & Minimum – 22°C
Winter: Maximum – 30°C & Minimum – 15°C
Ahobilam is a small town and food is available at small hotels and canteens. There is a Brahmana Nitya Annadana Satram in the Upper Ahobilam where food is provided daily for nearly 400 people. In addition, Sri Ahobila Matham has established a trust called Annamacharya Nitya Annadana Trust. Food is provided free of cost to the devotees of Sri Lakshmi Narasimha Swamy.
Brahmothsavam is celebrated in the month of February to mid-March. All the 9 shrines can be visited in 2 days with help of guide.
Hyderabad Airport is the nearest airport, 333 km from Ahobilam. Nandyal Railway Station is the nearest railway station, located 66 km away from Ahobilam. It is connected to major cities like Howrah, Hyderabad, Bangalore, Goa, Machelipatnam, Vijayawada, Hubli, Puri, Vizag and Bhubaneswar. Ahobilam is very well connected by bus with nearest town Allagadda (25 km). There are state buses available from Chittoor, Nandyal, Kadapa, Hyderabad, Tirupati, Nellore, Chennai and Kurnool for Allagadda.The best time to visit Ahobilam is from October to March while the peak season is from February to May. Usually it takes 1 day to visit Ahobilam.
Temple Timings: 
Lower Ahobilam: 6 AM – 2:30 PM and 5 PM – 8 PM
Other Temples: 6 AM – 1 PM and 3 PM – 5:30 PM
ADDRESS:
Ahobilam, Andhra Pradesh 518543, India
Location:Allagadda Taluk of Kurnool District