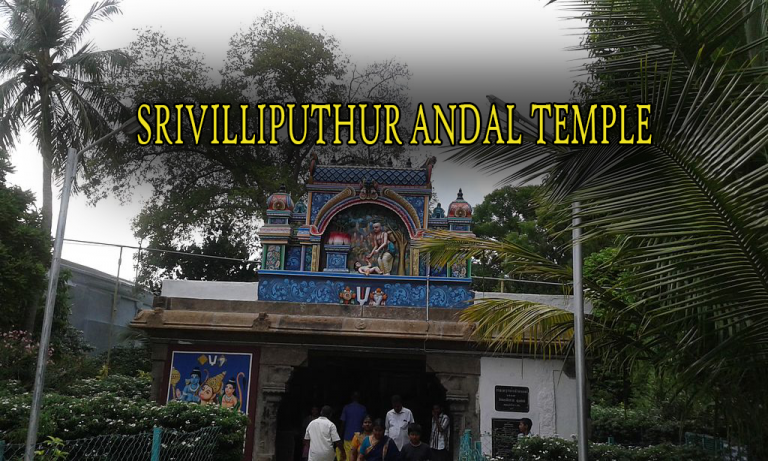 Srivilliputhur Andal Kovil is one of the most famous Temples in Tamilnadu. Srivilliputtur is one of the old historical town in Tamilnadu, India.
Distance (From Madurai): 
80 Kms
Commonly Visited From: 
Madurai
Trip Duration (From Madurai, Including Travel): 
4 Hours/Half Day
Place Location: 
At Srivilliputhur
Transportation Options: 
Bus / Cab
At a distance of 80 km from Madurai and 100 km from Tirunelveli, Srivilliputhur Andal Temple is an ancient Hindu temple situated at Srivilliputhur in Virudhunagar district of Tamilnadu. This is one of the popular temples in Tamilnadu and also one of the 108 divya desams of Lord Vishnu. The 11 tier Raja gopuram is the tallest in Tamilnadu and is also the Emblem of Tamil Nadu Government.
The temple is dedicated to Lord Vishnu, who is worshipped as Vatapatrasayi and his consort Lakshmi as Andal. It is believed to be the birthplace of two of the Alwars, namely Periazhwar and his foster daughter Andal. The Alwars lived in 8th century, so that the existence of the temple can be traced even before. Vatapatra Sayanar Temple was constructed by the King Villi who ruled the place. The tall temple tower was constructed by Peria Alwar with the help provided by the Pandian king Vallabadevan (765-815 AD). The Andal Shrine had been constructed by different kings of Pandya dynasty at different times. King Thirumalai Nayak had done many renovations.
Srivilliputhur Temple is associated with the life of Andal, who was found under a Tulsi plant in the garden inside the temple by Periazhwar. She is believed to have worn the garland before dedicating it to the presiding deity of the temple. Periazhwar, who later found it, was highly upset and stopped the practice. It is believed Vishnu appeared in his dream and asked him to dedicate the garland worn by Andal to him daily, which is a practice followed during the modern times. It is also believed that Ranganatha of Srirangam married Andal, who later merged with him.
The very name kindles our souls. It occupies the foremost place in the 108 Divya Desams. It has a glorious past. Both VISHNUCHITTAR who had been affectionately called "PERIA ALWAR" because of his love and dedication to LORD KRISHNA and his divine daughter ANDAL who stands for the unification of the Microcasm and Macrocasm were born here. The legend is that the Vaishnavites will prostrate before the person who utter the name of Srivilliputtur.