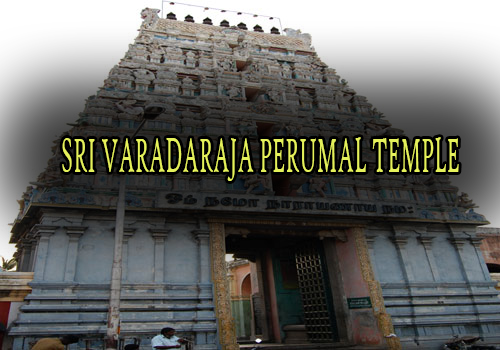 Varadaraja Perumal temple in the South Indian union territory of Puducherry, is dedicated to the Hindu god Vishnu.
Distance (From Tirunelveli Railway Station): 
1 Kms
Commonly Visited From: 
Tirunelveli Railway Station
Trip Duration (From Tirunelveli Railway Station, Including Travel): 
1 Hour
Transportation Options: 
Cab / Walk/Trek
Timings: 7 AM – 11 AM & 6 PM – 9 PM
At a distance of 1 km from Tirunelveli Railway Station, Sri Varadaraja Perumal Temple is an ancient and well known Vishnu temple lies on the banks of Thamirabarani River at Tirunelveli, Tamil Nadu. It is considered as one of the oldest temples in South India and also one of the top Places to visit in Tirunelveli.
The temple is dedicated to Lord Vishnu. The main deity of the temple is Veeraraghavan and the Ustava Moorthy is Sri Varadharaja Perumal, after whom the temple is named. According to the history, king Krishnavarma was ruling this region. Once he found an idol made of blue stone while bathing in Thamirabarani River. He built a temple installing the deity and named him Varadaraja Perumal. Deeply plunged in the worship of the Lord, the king was not prepared militarily to face the invasion on his land. He prayed to the Lord to protect him, his subjects and his land. Responding to the prayers of the king, Lord came to the battlefield in his form, fought and drove the enemies back. King Krishnavarma felt happy and constructed this temple for Lord Veeraraghavan to show his gratitude.
The main deity Lord Veeraraghavan appears very handsome and majestic in the sanctum. Two separate shrines are dedicated to the goddesses, Vedhavalli Thayar and Perundevi Thayar. The temple also houses many other sannidhis that include Yoga Narasimhar sannidhi, Alwars sannidhi, Vikshwasenar sannidhi, Garudar sannidhi and so on. In this temple, Lord Hanuman graces in worshipping form standing before the presiding deity Lord Veeraraghavan.
The 10 day Chithirai festival during April-May, annual Abishek festival in May – June, Adi festival, Krishna Jayanthi and Sri Ramanavami are the popular festivals celebrated in this temple. Hanuman Jayanthi, the festival of the monkey god, is also celebrated for 10 days in Marghazi (December- January).