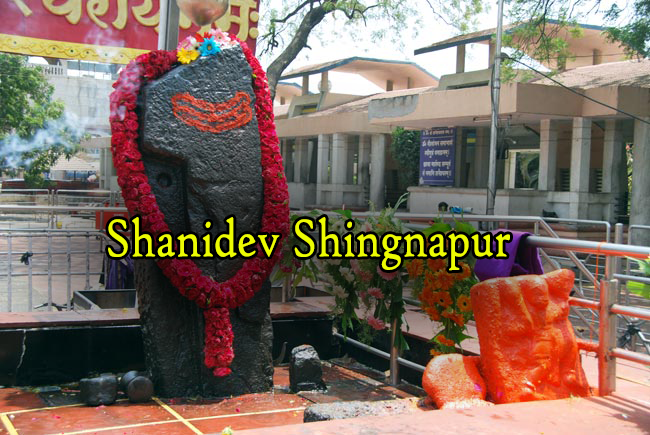 Shani Shingnapur temple is a famous mandir of lord Shani in the Ahmednagar district of Maharashtra. There are no specific timings to take darshan in this temple. It remains open 24×7 throughout the year.
Distance (From Shirdi Bus Station): 

72 Kms

Visited From: 

Shirdi Bus Station

Trip Duration (Including Travel): 

4 Hours/Half Day

Transportation Options: 

Bus / Cab / Auto

Timings: 24 Hours on all days.
At a distance of 72 km from Shirdi and 44 km from Ahmednagar, Shani Shingnapur or Sonai is a village in Nevasa taluka of Ahmednagar district in Maharashtra. The village is known for its popular temple of Shani Mahadev, the Hindu god associated with the planet (graha) Saturn. This is one of the most popular Shani temples in India and also among the famous pilgrimage places to visit near Pune.
Temple Pooja Daily Schedule
The Shani Temple at Shingnapur is open for worship from 5 am to 10 pm.
Festivals & Pujas:
Shani Amavasya
Amavasya or the no moon day, which falls on a Saturday, is considered to be the most auspicious occasion to worship Lord Shanidev at Shani Shingnapur Temple. Numerous devotees from all around the country come here to receive the blessings of the Lord on this day. A huge fair and a palanquin procession of Shani are held on this day. Apart from Shani Amavasya, worshipping Lord Shani on all Saturdays is considered to be very favourable.
Shani Jayanthi
Shani Jayanti is considered as the day on which Lord Shani was born or appeared on earth. It is also known as Shanishchara Jayanti and observed on Amavasya (New moon day) in Vaishakh month. On this day, the idol appears blue in colour. 'Panchamrut' and 'Gangajal' are used for cleaning the idol of Lord Shaneshwara.
Special Rituals/ Prarthana performed in temple
The devotees should take head bath and proceed in wet clothes to the platform of Lord Shani Bhagwan. Saffron-colored attire is generally worn by the devotees. No priest exists here to perform the pooja. Devotees themselves perform the puja in the form of circumambulations, offering prayers and performing abhishekams with water from the holy well nearby and sesame oil.
Male devotees can go up to the platform and offer their prayers without any upper-garments, in wet dhotis. However, women are offered worship without mounting the platform.
Devotees offer oil (preferably sesame) in multiples of quarter, coconut, dried dates, dried coconut, betel nut, rice, turmeric, kumkum, gulal, neel, sugar, colotropis flowers preferably blue, black cloth, curds and milk for abhishekam.
The idol of Lord Shanidev at the Shingnapur temple is swayambhu and the temple is believed to be a jagrut devasthan, meaning that a deity still resides in the temple. The idol is personified in the form of a black stone which is five and a half feet high installed on an open air platform. There is a trishul alongside the stone as well as a Nandi on its south. In front are the small images of Shiva and Hanuman. An east facing multi deity temple was built west of the Shani idol later. The premises also contain a tomb of Saint Udasi Baba and a temple dedicated to Dattatreya.