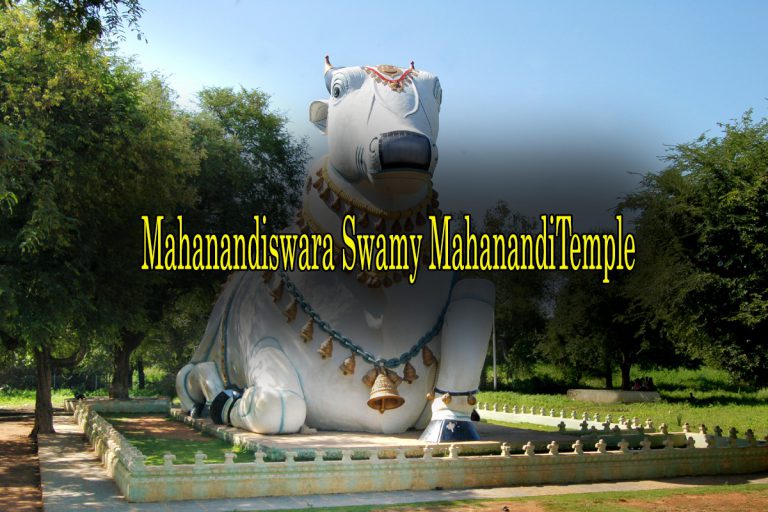 Mahanandiswara Swamy Mahanandi Temple it is also situated to the south faced door of Srisailam, in Nandyala Taluka of Kurnool District, Andhra Pradesh around 5 miles (8kms) from Thumdapalle village (Thambalpalle), 3 miles (5kms) from Thimpurmanu village, and 4 miles (6kms) from Gajulapalle Railway Station.
History of Mahanandishwara Temple:
Mahanandiswara Swamy Mahanandi Temple is dedicated to Lord Siva. This temple dates back to 7th century. Temple is 17 Km from Nandyala bus station. Mahanandi is located at the east of Nallamala Hill ranges with 9 temples of Nandi, which are located within 15 km range. Out of 9 Nandi temples,Mahanandi got famous and fame because of the perennial water flow.
One version is that in the beginning of Kritayuga, One Paravatha King had two sons called Silada and Nandi. The eldest son Silada got his name due to strict penance where he gave up eating food except Silaor Stone. The Lord was pleased by his devotion and converted Silada into a holy hills and began to live upon him. In this similar fashion, the second son Nandi did the penance for Lord Siva. Lord Siva converted him as Nandi and made him his vehicle (Vahanam). The place where Nandi did penance is considered to
be the place where the present Mahanandi exists.
The nine nandis called as 'Navanandis' can be seen from the village. The Mahanandiswara Swamy Temple is the prime attraction of the village, belonging to the Chalukyan period. It is devoted to Lord Mahanandiswara, one of the forms of Lord Shiva. The festival of Magha Bhula Chaturdasi is celebrated here in the month of February or March and lasts for seven days.
Nava Nandis and Location:
Maha Nandi is 17 km from Nandyala Bus station
Prathama Nandi is near to Nandyal Railway station which is 16 km away
Naga Nandi is located at Anjaneya Swamy Temple in Nandyala Town.
Soma Nandi is located at Atmakur Town
Surya Nandi is 6 km from Mahanandi Temple
Krishna Nandi or Vishnu Nandi is 3.2 km from Mahanandi Temple
Vinayaka Nandi is located within the temple complex, Northwest to the Temple entrance
Siva Nandi which 13 km from Mahanandi Temple and is located in Nandyal Town
Garuda Nandi is located within the temple complex.
Mahanandiswara Swamy Mahanandi Temple Pools:
There are three temple tanks in and around the main temple, two temple tanks called by Brahma Gundam and Vishnu Gundam are located outside the temple and the one inside the temple is called by Rudra Gundam. Temple tanks water source originates beneath Swayambhu Siva Ling ( Self manifested Linga) inside the Sanctum of Sanctorium. Vishwakarma Brahmins designed the tanks such a way that water level remains at 5 ft, excess water flows thru the canals and fertile 2000 acres of agriculture land. Devotees are
allowed to touch the main deity here unlike other temples where touching will be prohibited.This water possesses healing properties, devotees used to take the holy dip at the temple tanks. The water during the winter season will be very hot and vice versa during the summer. Water at Temple tanks will be warm at early hours of the days and water gets cooler as the day progress. Irrespective of the seasons,water here flows at a constant pace. Temple inscriptions state that this flow never stopped right from 6th Century.
Mahanandiswara Swamy Mahanandi Temple Festivals:
Maha Sivaratri will be celebrated in a grand during the months of Feb/Mar ,which varies based on Hindu calendar. During Karthika Masam which is dedicated to Lord Siva, special events will be held and thousands of devotees used to participate during that time.
As the temple is surrounded by thick forest, not much facilities available here. One can stay at Nandyala town, where plenty of private hotels are available. From Nandyala Town it is 30 mins by road and direct transportation is available.
Mahanandi Temple Timings:
The temple is opened for the pilgrims from 5:30 AM to 9:00 PM.
Mahanandi Temple Address:
Sri Mahanandeeswara Swamy Devasthanam,
Mahanadi-518673
Kurnool District,
Andhrapradesh, India.