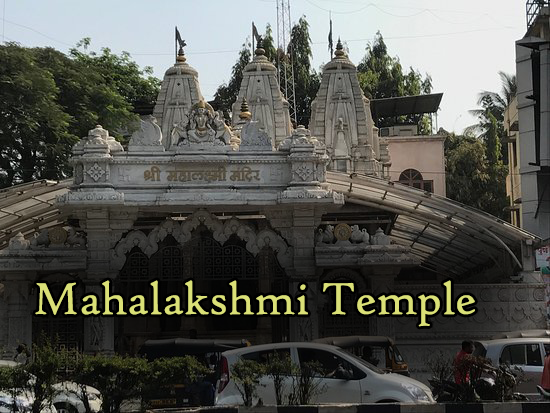 The Kolhapur Mahalakshmi Temple, also known as the Amba Bai Temple is located in Kolhapur, Maharashtra. The temple is extremely sacred, especially to the followers of the Shakta sect who worship Adi Parashakti as their main deity.
Distance (From Pune Railway Station): 

6 Kms

Visited From: 

Sarasbaug Temple (500 m)

Trip Duration (Including Travel): 

30 Mins – 1 Hr

Place Location: 

Near Sarasbaug Temple

Transportation Options: 

Walk/Trek

Timings: 6 AM to 10 PM
Address:
Mahadwar Road,
B Ward,
Shivajipet,
Kolhapur,
Maharashtra – 416012.
Phone: 0231 254 1779
At a distance 6 km from Pune Junction, Sri Mahalaxmi Temple is beautiful temple situated at just opposite to Sri Sarasbaug Ganesh Temple in Sarasbaug area of Pune, Maharashtra. It is one of the top pilgrimage places to visit in Pune City.
Kolhapur Temple Timings, Darshan, Pooja, Harathi details:
S.No Timings Pooja details
1 4:30 am Temple opening Hours
2 4:30 am – 5:00 am Suddhi
3 5:30 am – 6:00 am Cleaning Main deity feet with Milk
4 6:00 am – 12:00 pm Special Darshan
5 7:00 am – 7:30 am Harathi for the main deity
6 8:30 am – 9:00 am Holy bath for the Goddess
7 12:00 pm – 12:30 pm Naivedyam
8 12:30 pm – 1:00 pm Harathi
9 1:00 pm – 8:00 pm Darshan
10 1:30 pm – 2:30 pm Goddess will be decorated with ornaments
11 8:15 pm – 8:30 pm Harathi
12 8:30 pm – 9:00 pm Removing the ornaments
13 10:00 pm – 10:15 pm Last Harathi for the day
14 10:30 pm Temple closing Hours
Daily Poojas:
Mahapooja, Abhishek and Archana for the Goddess Maha Lakshmi.
Kartik Month to Narak Chaturdashi:
2:30 AM – Opening Door Of Temple
03.15 AM – Kakad Arti
3:30 AM – Poojas of Devotee
5:00 AM to 6:00 AM – First Pooja Of Mata then Arti and Shankhatirth.
Festivals celebrated at:
Mahalakshmi Temple
Lalitha Panchami
Kirnotsav
Rathotsav
Deepavali
Accommodation:
Several guest houses are available for a stay near the Kolhapur Mahalakshmi Temple complex as well as in other parts of the city. The prices are reasonable. One can book rooms from a wide range of options. Most of the hotels provide decent and hygienic accommodation along with the restaurant facilities. Some of the popular hotels are the Padma Guest House near the Temple, Hotel Jyotiba, Hotel Pearl and the Heritage resort.
The temple was built in Dravidian style of architecture. The shikhar of the Mahalaxmi temple is 55 feet tall and 24 feet wide. The temple possesses 3 magnificent peaks which are masterfully carved with minute carvings and sculptures of several Hindu gods and are perfectly enthroned on the three deities present in the temple. The deities of Goddesses Sri Maha Saraswati, Sri Mahalaxmi and Sri Mahakali are six feet tall and have been carved out of pristine marble.