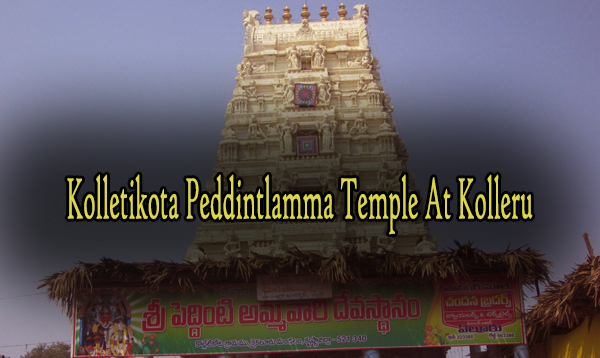 Kolleti Kota Peddintlamma Temple It takes 55 minutes to travel from Eluru to Peddintlamma Temple. Approximate driving distane  between Eluru and Peddintlamma Temple is 46 kms or 28.6 miles or 24.8 nautical miles . Travel time refers to the time taken if the distance is covered by a car.Kolleti Kota Peddintlamma Temple is located near Akividu, Kaikaluru Mandal in Krishna District of Andhra Pradesh. KolletiKota is just 20 KM from Eluru and 10 KM away from Akividu.
History of Kolleti Kota Peddintlamma:
It is said that this temple had been constructed by a king named Ammadevarayulu from Orissa during the 11th century. Peddintlamma is the elder of all the 108 Grama Devatas so had been named Peddintlamma and as she is located near huge water body of Kolleru she had also been devoted as Jala Durga Devi at the same premises of Peddintlamma. Both Peddintlamma and Jala Durga Devi Sharing the same Garbha Gruha is a very rare and the speciality of this temple.
The tourists would be provided darshan at Sri Peddintlamma Devastanam in Kolleti Kota village, said Andhra Pradesh Project Facilitators and Consultancy Services Limited (APPFCS) Chief Consultant K. Lakshminarayana.During boat ride tourists can visit Upputeru canal which flows into Bay of Bengal separating Krishna and West Godavari districts, Peddintlamma temple, wooden bridge and the bird sanctuary. As part, the consultancy is planning to construct resorts at Alapadu village. Similarly, the tourism circuit would be developed in Visakhapatnam district with Rs. 250 crore and Konaseema Tourism Circuit in East Godavari district.
Kolletikota is a hamlet which comprises five villages and is located in the Krishna district. It is famous for the Kolleti Kota Peddintlamma Temple, which is a highly revered temple of the area which draws a large number of devotees from many parts of the district as well as the state. The presiding deity of this temple which is believed to have constructed in 11th Century is Goddess Peddintlamma. The 9 feet high idol of the goddess is kept in the temple which is very pleasant to watch. It is also famous about the residents of this village that even the snake bite from a cobra has no effect on them due to the presence of a special plant that grows in the area.
Which is the perfect time to visit Kolletikota?
It is recommended that you plan your trip to Kolletikota in the winter season when the weather and atmospheric conditions are favourable. The winter season falls in December to February.
The annual festival begins from palguna suddha padyami to pournami. kalyanam is on palguna suddha dwadasi. on palguna dwadasi every year kalyanam will be for jaladurga and gokarneswara swamy by peddintlamma thalli. gokarneswara swamy temple is in gokarnapuram away from kolletikota by 3miles distance. this temple was constructed in 11th century by langula gajapathi raju a surya vamsi of kaasi gotra (VADDI RAJULU). with the help of elephants. on the occassion of kalyanam pedda praba and chinna praba(radhams) will come to kolletikota from pandiripallegudem(kotalanka).                                                                                                                                                                 The villagers of this village believe that poisnous snake bite of indian cobra does nothing to them beacause of thella gilledu plant in underground of the island. before these plants are on the surface of island due to sand sedimentation and sand over turns happend in ancient days merged the plants inside the ground.
TEMPLE TIMINGS:
6 a.m to 1 p.m. to 3.00 p.m. to 7.00 p.m.
ADDRESS:
Kolletikota, Andhra Pradesh 521340 Krishna district