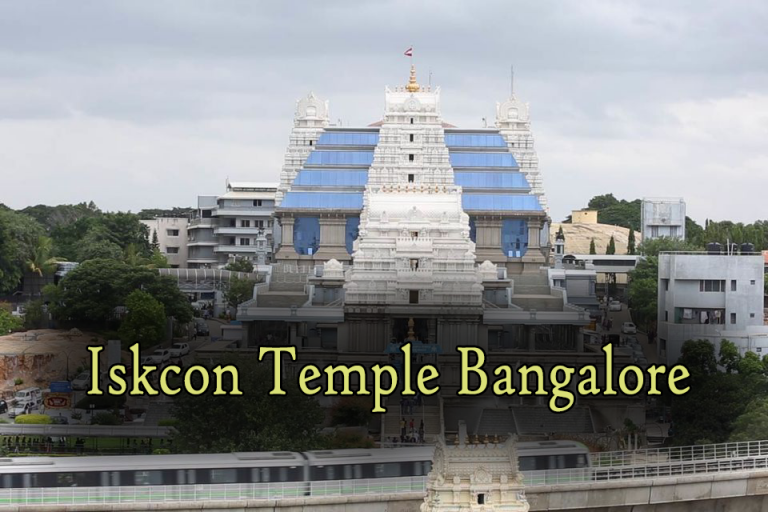 Iskcon Temple Bangalore Sri Sri Radha Krishna Chandra Temple is accredited for having the ISKCON's largest temple complex in the world. Being made by the Iskcon cult, the magnificent shrine is commonly known as Iskcon Temple. Located on west of Chord Road in Bangalore, the colossal shrine sprawls on seven-acres of 'Hare Krishna Hill'. This outstanding temple is one amongst the best shrines constructed by the ISKCON. Iskcon Temple can be reached easily by taking regular buses, local vehicles or by hiring taxis from the city of Bangalore.
Distance (From Bangalore City Railway Station): 
6 Kms
Visited From: 
Bangalore City Railway Station
Trip Duration (Including Travel): 
2-3 Hours
Place Location: 
On Hare Krishna Hill In Jayanagar
Transportation Options: 
Bus / Cab / Auto
Timings: 4.15 – 5 AM, 7.15 AM – 1 PM & 4 PM – 8.45 PM.
At a distance of 6 km from Bangalore City Railway Station, ISKCON (International Society for Krishna Consciousness) Temple Complex is located on the Hare Krishna Hill in Jayanagar. Dedicated to Lord Krishna, it is one of the largest ISKCON temples in the world. This is also one of the top pilgrimage sites & tourist places to visit in Bangalore.
ISKCON Sri Radha Krishna temple was inaugurated in the year 1997 by Shankar Dayal Sharma, then President of India. The temple was built to honor the birth centenary of Sri Prabhupada, the founder of the ISKCON. The project was conceived and executed by Madhu Pandit Dasa following the wishes of Prabhupada to promote Vedic culture and spiritual learning. The temple is a huge cultural complex housing the temples dedicated to Sri Radha Krishna, Sri Krishna Balarama, Sri Nitai Gauranga, Sri Srinivasa Govinda and Sri Prahlada Narasimha.
The temple covers an area of 7 acres and is built in Dravidian style. The temple is an exclusive combination of glass and gopuras, modern and traditional South Indian Temple architecture. The four gopurams inside the temple are connected by a striking glazed-glass canopy. The main temple hall houses the altars of Lords Sri Radha Krishna, Sri Krishna Balarama, etc. Gold plated kalasha which is 36 ft high and 18 ft wide, intricately designed is a must watch. The main deities are made of panchaloha and are gold plated.
The Kalyana mantapa and pravachana halls inside the complex are also worth watching. The temple has Vedic museums, landscaped gardens, exhibition halls and a lecture hall. The ISKCON temple is more than a place of worship, as it hosts several spiritual, educational and cultural activities.
The celebration of Sri Krishna Janmashtami at ISKCON temple is witnessed by huge number of devotees. Abhisheka of the Lord is the special feature of this festival. Milk, Honey, Curds and Fruit juices are used for abhisheka during the festival.