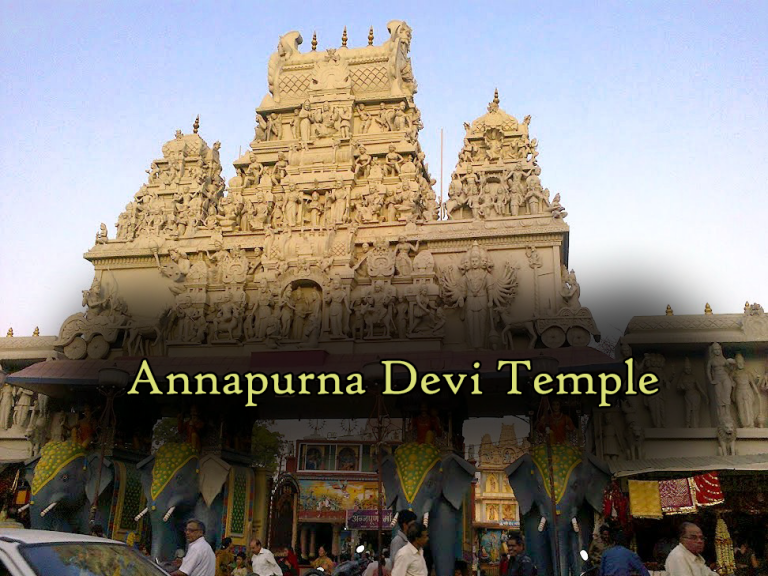 Annapurna Devi Mandir is constructed in Nagara style architecture. The sanctum of the temple houses two idols of Goddess Annapurna Devi; one made of gold and other of brass. The brass idol is available for daily darshan whereas darshan of the gold idol can only be done once a year on Annakut day. Annakut festival is celebrated every year after Diwali. On this occasion coins are distributed to all the devotees. It is considered that whoever will worship this coin, they will be blessed by Annapurna Mata for their successful and prosperous life.
Distance (From Varanasi Junction): 

5 Kms

Commonly Visited From: 

Kashi Vishwanath Temple (100 m)

Trip Duration (From Kashi Vishwanath Temple , Including Travel): 

30 Mins

Place Location: 

At Vishwanath Gali

Transportation Options: 

Walk/Trek

Timings: 4 AM to 10 PM

At a distance of 5 km from Varanasi Junction, Annapurna Devi Mandir is a popular Hindu temple situated near Kashi Vishwanath Temple in Vishwanath Galli area of Varanasi, Uttar Pradesh. Having great religious importance in Hinduism, it is one of the popular places to visit in Varanasi.

The temple was constructed by Maratha Peshwa Baji Rao in 1729 AD. Having great religious importance in Hinduism, the temple is dedicated to Goddess Annapurna Devi, the Goddess of Food or the Goddess of Nourishment. It is believed that Goddess Parvati gave Alms to Shiva, and she is depicted with a bowl in one hand and ladle in the other, serving food to Shiva, standing in front of her with his begging bowl in the hand. Mata Annapurna is the Goddess of Varanasi who always protects Kashi and feeding her devotees.

According to the legend, the entire world becomes dark when Mata Parvati closed all the three eyes of Lord Shiva. Due to this, Mata Parvati too lost her Gauri Rupa and asked Lord Shiva's help in attaining the Gauri Rupa again. On the advice of Lord Shiva, Mata came in the form of Annapurna Devi with a golden pot and ladle to do anna daan in Varanasi. Hence, Mata Parvati attained her Gauri Rupa again.

According to another belief, once Mata Parvati got very angry when Lord Shiva told her that the entire world (including food) is maya. In order to demonstrate the importance of food, she disappeared all the food on earth and the entire world started to suffer due to hunger. Lord Shiva finally came to Mata Parvati and acknowledged the importance of food. Then, Mata Parvati became happy and offered food by her own hands to Lord Shiva and then made a kitchen in Varanasi for her devotees.