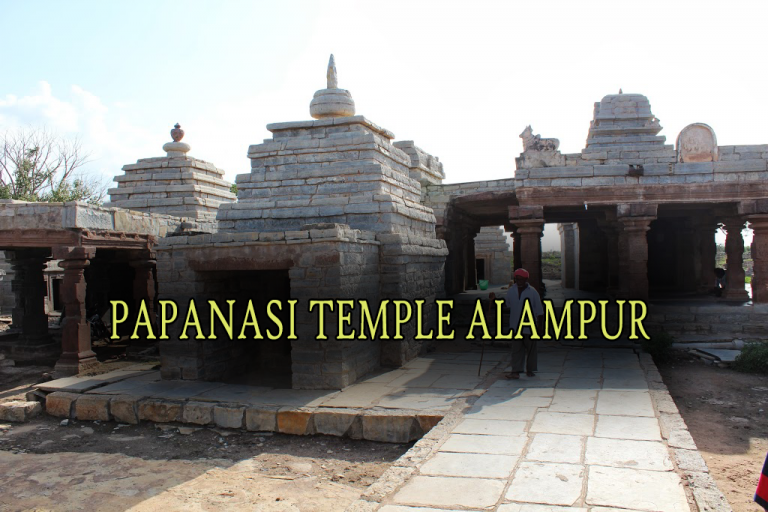 Alampur Papanasi Temples are a group of twenty three Hindu temples dated between 9th- and 11th-century that are in Papanasi village, near Kurnool to the south of Alampur, in Telangana. This cluster of mostly ruined temples are co-located near the meeting point of Tungabhadra River and Krishna River at the border of Andhra Pradesh. They are close to the Alampur Navabrahma Temples of the Shaivism tradition, but completed a few centuries later by the Rashtrakutas and later Chalukyas.
Distance (From Alampur Bus Station): 

2 Kms

Visited From: 

Alampur Bus Station

Trip Duration (Including Travel): 

30 Mins

Transportation Options: 

Cab / Auto

Timings: 5am-6pm
At a distance of 2 kms from Alampur Bus Station, Papanasi Temples are a group of wonderful temples dedicated to Lord Shiva. These temples are known for beautiful carvings.
Originally built on the banks of Tungabhadra River, the temples were moved to the current location during the construction of Srisailam Dam. The group of 24 temples were developed between 6th and 10th centuries. The main shrine called Papanaseswara was built by Chalukyas in the 6th century while the remaining temples were constructed by Rashtrakutas between 9th and 10th centuries. Built in Dravida and Phamsana styles, the site has two main temples and remaining are sub-shrines.
The main shrine of Papanaseswara has a large pillared mandapa and sanctum with Shivalinga. There are sub-shrines of Ganesha and Saptamatrukas on each side. The important art work in this temple includes Vamana avatara, Ashtadikpalakas, Mahishasura Mardhini, Ramayana scenes, Lingodbhava, Gajasura stories, Shiva in dancing posture among others.
The second biggest temple in the complex on the left side of main shrine is called Gurulingesawra. This shrine has a mukhamandapa with wonderful sculptures on the pillars like Samudra Madhana, Marriage of Shiva & Parvathi and scenes from Ramayana. The ceiling has the relief work of Shiva with Ashtadikpalakas and Lord Vishnu in different avataras.
The remaining shrines are considerably small and house shivalingas. The Shivalinga in main shrine of Papanaseswara appears in green color. There are in total 18 Shivalinga in the complex in different sizes and colors. One of the shrines facing east houses a statue of Surya as the main deity.
There is a large mahadwara at the entrance of the complex with images of Ashta Lakshmis, Lakshmi, Kubera, Vinayaka and Hanuman. The approach road from Alampur to Papanasi temples was not so good (as of June 2015) and visitors are advised to be careful while driving.