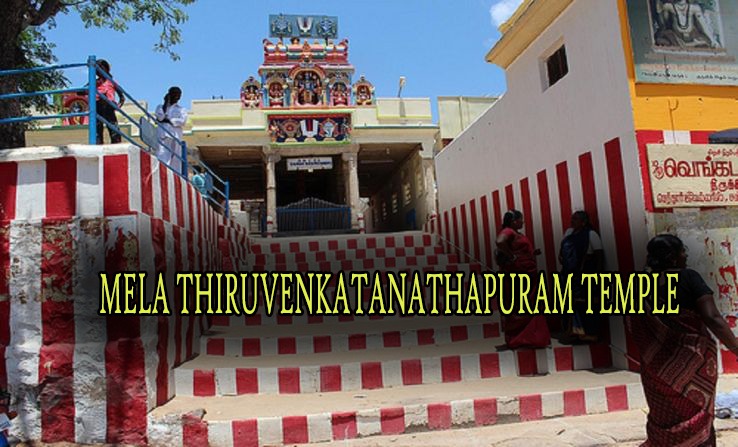 Mela ThiruVenkatanathapuram, an Abhimana Sthalam. Varadaraja Perumal temple at Keezha Thiru Venkatanathapuram is about half a kilometer North of this temple.
Distance (From Tirunelveli Railway Station): 
10 Kms
Commonly Visited From: 
Tirunelveli Railway Station
Trip Duration (From Tirunelveli Railway Station, Including Travel): 
1 Hour
Place Location: 
At Mela Thiruvenkatanathapuram Village
Transportation Options: 
Bus / Cab
Timings: 7 AM – 11 AM & 5 PM – 8 PM
At a distance of 10 km from Tirunelveli, Sri Venkatachalapathy Temple is situated atop Swetha Varaha hill in Mela Thiruvenkatanathapuram village on the banks of Thamirabarani River in Tirunelveli district. Also known as Thirunankovil Temple, the temple is revered as 'Then Thirupathi' and visiting this temple is considered equivalent to visiting Tirupathi.
The temple is dedicated to Lord Srinivasa, a form of Lord Vishnu. According to the legend, Sage Pylor, one of the disciples of Maharishi Vyasa was meditated here on the banks of the Thamirabarani River. Mahavishnu, satisfied by his penance, appeared before him as Lord Srinivasa and blessed him. At the request of Sage Pylor, the deity agreed to be present at the place permanently. The sage is responsible for the building of the temple initially. The current structure of temple itself was constructed by Venkatappa Nayak about 700 years ago.
This east facing temple is built as a 'maada kovil' with the main shrine on the elevated platform. The sanctum houses the main deity Venkatachalapathy along with his two consorts Sridevi and Bhudevi. The deity is found with four hands carrying conch and discus. It is believed that Lord Venkatachalapathy of this temple will bless childless couples if they perform Pal Payasam pooja on the Shravanam day. In mahamandapa, the bronze idols of Garuda and Hanuman are found. The sub-shrine of Ramanujar, Senai Mudaliar and Vishvaksena are resent in this temple. Varadaraja Perumal Temple at Keezha Thiruvenkatanathapuram is about half a kilometer north of this temple.
The most important festival of the temple is Garuda Seva. This is celebrated during the Thiruvonam day and on every Saturday of the Tamil Month of Vaikasi, which comes between September and October every year. This would be the best time to visit the temple.