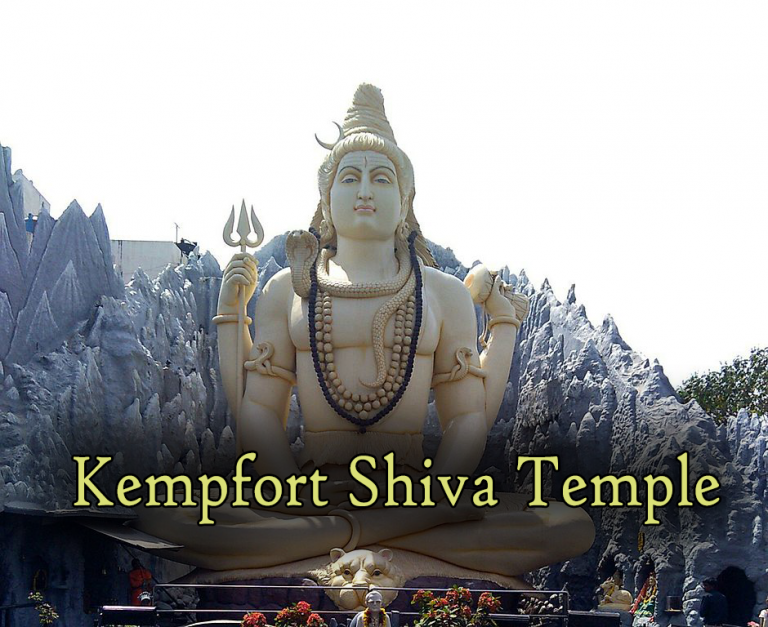 The Kempfort Shiva Temple in the garden city of Bangalore enshrines 65 feet tall idol of Lord Shiva. Since its inauguration in the year 1994, the temple has been one of the most famous tourist destination in Bangalore. The temple was inaugurated by Sri Shankaracharya of Shringeri on February 27, 1995 on the auspicious Maha Shivratri day.
Distance (From Bangalore City Railway Station): 
12 Kms
Visited From: 
Bangalore City Railway Station
Trip Duration (Including Travel): 
2-3 Hours
Place Location: 
Near Kemp Fort On Airport Road
Transportation Options: 
Bus / Cab / Auto
At a distance of 12 km from Bangalore City Railway Station, the Shiva Temple, also known as Kemp Fort Shiva Temple, is located on Airport Road. Construction of the 65-feet-tall Lord Shiva idol and the temple started in 1994. The temple was inaugurated in 1995 by Sri Shankaracharya of Sringeri on the auspicious day of Maha Shivaratri. It is one of the popular among Bangalore tourist places.
This temple attracts large crowd due to its grandeur, aesthetic values and majestic look. It boasts of awesome 65 feet high depiction of Lord Shiva seated in Lotus position. It has the backdrop of Mount Kailash, the Lord's heavenly abode and the river Ganga flowing from his hair locks.
Behind the idol is the holy cave, resembling the Cave Yatra traditionally called the Amarnath Yatra. Within the cave there are 12 beautifully decorated replicas of Jyotir Lingas. The cave is open to the public from 9 AM to 9 PM. It attracts a large number of devotees, especially during festivals like Shivaratri, when four to five lakh devotees visit this place.
Another attraction here is God Ganapati's Statue which is 35 feet tall. The white statue of Ganapati is seated close to the entrance, blessing the devotees with his right hand and a modak in his left hand. The temple features Navagraha temple, Pratyaksh Ling, a replica of Mansarovar Lake and Upchaar Patthar, which is a healing stone known to have magically cured numerous ailing patients.
The temple is open round the clock.