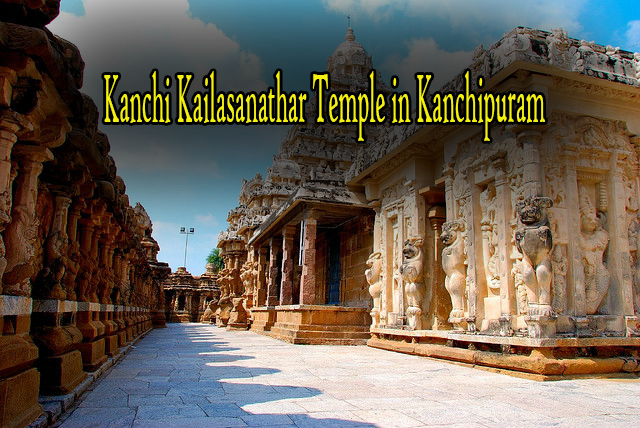 The kanchi Kailasanathar temple is the oldest structure in Kanchipuram. Located in Tamil Nadu, India, it is a Hindu temple in the Dravidian architectural style. It is dedicated to Lord Shiva, and is known for its historical importance. The temple was built from 685-705AD by a Rajasimha ruler of the Pallava Dynasty. The low-slung sandstone compound contains a large number of carvings, including many half-animal deities which were popular during the early Dravidian architectural period.
Locality/village : Kanchipuram
State : Tamil nadu
Country : India
Best Season To Visit : All
Languages : Tamil, Hindi & English
Temple Timings : 6.00 AM and 7.00 PM.
Address : Pillaiyarpalayam, Kanchipuram, Tamil Nadu 631501.
Temple construction is credited to the Pallava dynasty, who had established their kingdom with Kanchipuram (also known as "Kanchi" or "Shiva Vishnu Kanchi") as the capital city, considered one of the seven sacred cities under Hinduism.
There was an interregnum when the Chalukya rulers defeated the Pallavas and occupied Kanchipuram. However, the Pallavas regained their territory and started expanding their capital city of Kanchipuram and built many temples of great magnificence. The only temple of this period which is extant is the Kailsahanathar Temple.
The temple was built during 685-705AD. It is the first structural temple built in South India by Narasimhavarman II (Rajasimha), and who is also known as Rajasimha Pallaveswaram. His son, Mahendravarman III, completed the front façade and the gopuram (tower). Prior temples were either built of wood or hewn into rock faces in caves or on boulders, as seen in Mahabalipuram.
The Kailasanathar temple became the trend setter for other similar temples in South India. According to local belief, the temple was a safe sanctuary for the rulers of the kingdom during wars. A secret tunnel, built by the kings, was used as an escape route and is still visible.